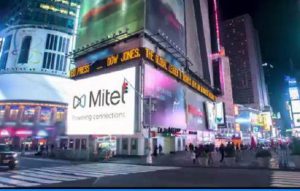 Today, Mitel continues to be one of the most powerful, and influential comms businesses in the world, specifically within the UCaaS sector. Their buy-and-build approach to business has helped them to gain a huge portion of the market share, making them the number one UCaaS company for Western Europe and EMEA, as well as one of the top UCaaS organizations in the world. However, since Mitel made their recent ShoreTel acquisition, they've evolved from being just "one of" the biggest UCaaS companies to be the second largest provider in the world.
What Does the Future Hold for Mitel and ShoreTel?
As Mitel has announced during their previous press releases, the main aim behind the Mitel and ShoreTel deal is to ensure that Mitel customers have a better, more customised strategy for moving into the cloud. As Graham said himself: "I think we've seen the move to the cloud growing more significant over the last few years. Our customers, partners, and even the whole world are moving towards a more software-focused approach to business."
While Mitel certainly had a great deal of power to deliver their own cloud approaches to their customers before the ShoreTel acquisition, reaching out to a company with a hugely successful cloud strategy has given them more solutions to work with.
Both Mitel and ShoreTel were already doing the same thing, by taking premise-based businesses to the cloud. Both were developing applications and services that gave their customers real reasons to migrate into the cloud environment. Now, by working together, they can deliver an even greater experience
Do You Think the Aastra Deal Has Prepared You for This One?
While Graham reminded me that the Aastra deal with Mitel took place around three and a half years ago, I felt it was worth drawing attention to in light of the latest purchase. Three and a half years isn't a long time to incorporate a huge company into another organization, but Mitel managed to do it impeccably well, becoming the number one vendor throughout Western Europe, and EMEA.
I wondered whether the Aastra acquisition had any impact on the way Mitel felt about the latest ShoreTel integration. According to Graham:
"When we became number one after Aastra, we opened ourselves up to a range of new opportunities, experimenting with things we could never access before. Now, we're exploring the same experience with ShoreTel. As the second largest UCaaS provider in the world, we're sure we'll be able to deliver more to the marketplace."
"We're very excited about the coming years, and delighted to be working with ShoreTel. ShoreTel is very cloud-centric, and we believe that they're going to help us bridge the gap between hardware and software even faster!"
Can You See Any Upcoming Challenges?
Since acquiring another big company like ShoreTel isn't exactly a walk in the park, I was interested to learn whether Graham and Mitel overall though there may be any upcoming challenges they would need to face with the acquisition. Graham was quick to let me know that Mitel knows exactly what they're doing here, and they've learned from their experience with Aastra too:
"I think that this integration is very straightforward. Yes, we'll need to bring things together and find ways to align the businesses, but the truth is that most of that alignment will happen naturally, thanks to the fact that we are already both on the same track."
With ShoreTel just about to finish their first quarter for the financial year, and Mitel almost ready to release third quarter results, the overarching theme for both companies is to focus on getting the best possible results. After that, 2018 will be the time when Mitel begins to announce potential plans for the future, and what the vision is for the combined companies.